In the last 24 hours, Bitcoin (BTC) has scaled new heights by surging past the $59K mark. Currently, Bitcoin is trading at 59,381 at the time of writing, per data from CoinMarketCap.
Market analyst Lark Davis believes that Bitcoin is getting ready to hit a new all-time high (ATH) this week based on its record-breaking price of $61.7K, which was set earlier this month. 
BTC has been on overdrive since it broke the then ATH of $20,000 set more than three years ago in December 2020. This price had become the psychological level, which Bitcoin had been trying to breach in vain after it was accomplished in 2017's bull run.
Crypto analyst Joseph Young has noted that the current Bitcoin uptrend is different from the 2017 one based on a couple of factors like a tremendous institutional demand. He explained:
"The differences between 2017 Bitcoin rally and 2020 include no Tether FUD(fear, uncertainty, and doubt), exchanges are regulated, India's and China's FUD are no longer, better regulations in Asia, conviction from long-time hodlers, All-time low $BTC exchange reserves, and explosive institutional demand."
If the present rally pushes the Bitcoin price to $181,000, Satoshi Nakamoto will emerge as the world's richest person. Satoshi Nakamoto is the pseudonym used by the anonymous person who authored the BTC whitepaper and developed the Bitcoin network.
Bitcoin to close its best Q1 performance since 2013
Bitcoin's current rally is expected to help the leading cryptocurrency accomplish its best Q1 performance since 2013, as acknowledged by digital asset firm Bloqport.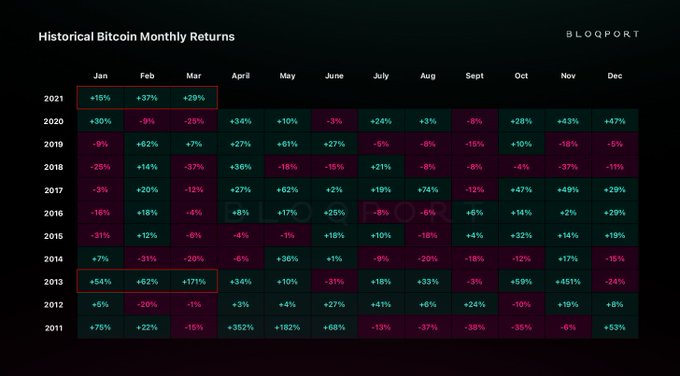 Crypto data provider Messari has also pointed out that BTC has emerged as the best performer in Q1 2021 after beating traditional assets, including global stocks, oil, gold, government bonds, and the world's reserve currency, the US Dollar, among others. For this quarter, Bitcoin has grown by 103%, in contrast with 26% for oil and 3% for global stocks, respectively.
Image source: Shutterstock