Facebook's Chief Executive Officer Mark Zuckerberg may have some hidden love for Bitcoin (BTC).
However, all that is changing as Zuckerberg, who ranks as one of the richest men in the world, has shown through a Facebook post that he whimsically has some love for the cryptocurrency.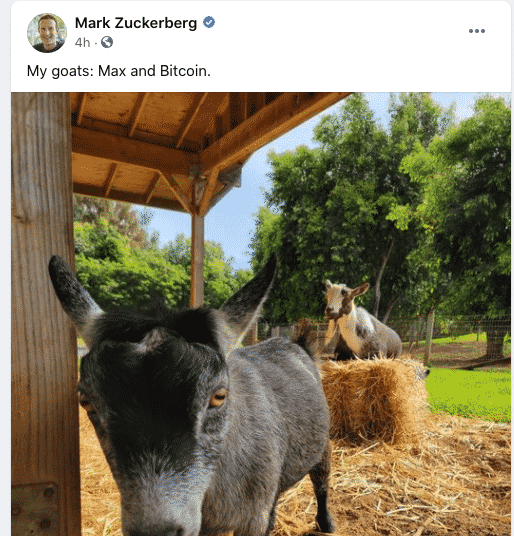 It is no longer news that some of the biggest names in tech and in the business world are showing their interest in the evolution of digital currencies. From Tesla's Elon Musk to Twitter's Jack Dorsey, the list goes on as key tech stakeholders are beginning to embrace the new form of money.
The interest from each of these men, who has led their respective companies to secure Bitcoin on their balance sheets, has had a tremendous impact in pushing the price of the cryptocurrency to new heights. For example, when Elon Musk's Tesla invested $1.5 billion into Bitcoin back in February, the price of the asset surged to an all-time high above $45,000.
With Zuckerberg coming out to talk about Bitcoin, there are strong speculations that the billionaire CEO may either be eyeing a Bitcoin move or that he already holds a position with the digital currency. This will not be a surprising move as many have predicted that the demand for Bitcoin and cryptocurrencies in general will escalate for both retail and institutional investors.
Zuckerberg's speculated interest in Bitcoin may lead to hesitant investors being sold on the cryptocurrency. Currently, Bitcoin has seen a pullback from the $60,000 psychological level, in contrast with Ethereum which has been on a tear, rising above $4,000 for the first time in its 6 years history. At the time of writing, Bitcoin is exchanging hands at $55,777.67, down 4.2% in the past 24 hours according to Coingecko. 
Image source: Shutterstock