Posted by Simon Keighley on November 22, 2021 – 9:08am Edited 11/22 at 9:35am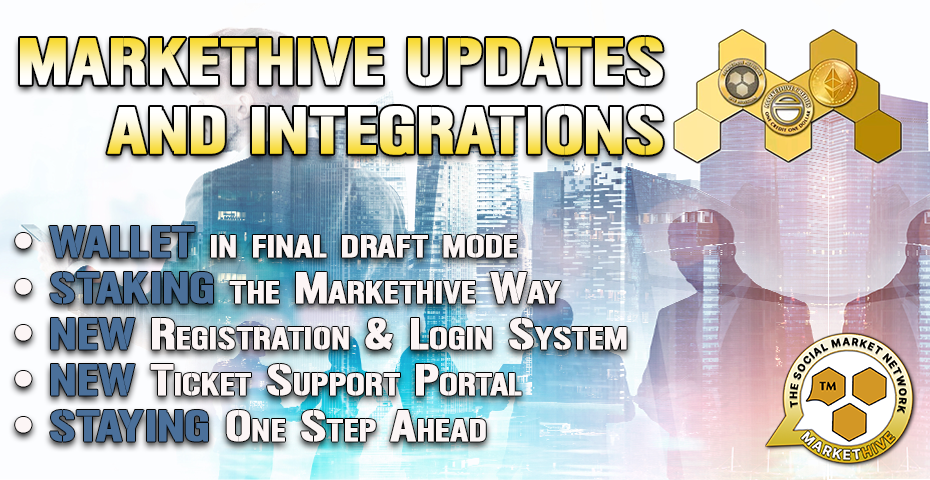 Markethive started out as a sophisticated inbound marketing platform with a social media interface harvesting a robust collaborative culture. The entrepreneurs of the Markethive community have been using the free system and tools, promoting their businesses, and branding themselves across the internet with much success.
With the advent of Blockchain technologies, Markethive set its path on an unprecedented journey of combining marketing, social media, digital broadcasting, e-commerce, gamification, etc., with cryptocurrency and decentralized Blockchain, distributed ledger technology. An ongoing project of massive proportion to deliver sovereignty, financial and self, and freedom of self-expression for all equitably, without bias. 
Markethive is a Vision from the Divine Source. Its mission is to fill the vacuum for the world's entrepreneurs – To empower and enrich the lives of every individual on every level across the globe. And the timing couldn't be more perfect as we witness the soul-less destruction, tyranny, and surveillance of humanity gift wrapped and delivered to us as protection and for our own good.
We are building an ecosystem, and there's an absolute need and use for our coin (HVC) for everything we do; therefore, the potential for the open market to accept and embrace HiveCoin is very promising. Binance has done similar to what Markethive is doing. You can read about its rise to success as an ecosystem in this article. https://markethive.com/group/marketingdept/blog/theriseofbinanceakintothemarkethivejourney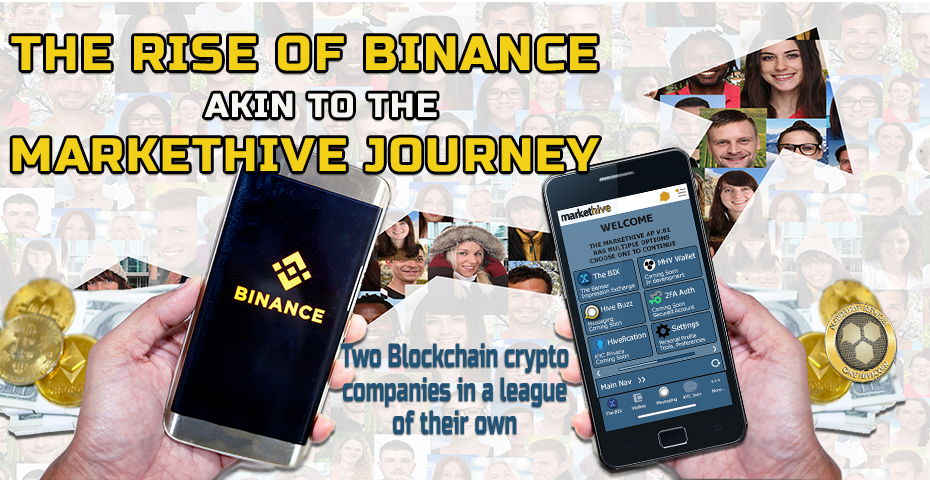 Wallet In Final Draft Mode
The Markethive web wallet is in the final draft mode and has various functionalities. It's currently being built on Ethereum and is a mechanism that has been developed from scratch to service the needs of the community. This is Markethive's internal wallet, with the end goal of a wallet app accessible from your smartphone (external wallet) that includes built-in messaging, news feeds, e-commerce, and security measures.
Notably, active Entrepreneur One members will be the first phase of receiving the initial internal wallet upon release. It's also important to note that the Entrepreneur One membership will no longer be available when the wallet launches.
If you're considering taking advantage of all the benefits of the E1 upgrade for $100 monthly, which includes 1/10 of an ILP per year, go to the Membership Upgrade tab on your home page. Time is running out for this offer. Entrepreneur One Upgrade Explained.

Click here to learn more about the ILP (Incentivized Loan Program)
The Vault Has A New Home
Apart from documenting your reports, history, balances, and transfers of HVC, ETH, and other top altcoins, the Markethive wallet will display a live chart tracking the progress of the HVC value in real-time. Your HiveCoin balance total is shown, including the HVC you have staked, which means what you have deposited into the Vault and rewards you with additional HVC also displayed, thereby increasing your portfolio.
The wallet also houses the Vault, which displays your Markethive Credits, subscriptions, and statements. The Vault, already in operation within the Markethive back office, is where you currently purchase Markethive Credits to pay for your subscriptions and various services; however, all the functions of the Vault are being upgraded and are accessible in the wallet, so it's fundamentally a comprehensive economic center for the Hive.
The image below is a mock-up of the internal wallet to get an idea of what's coming.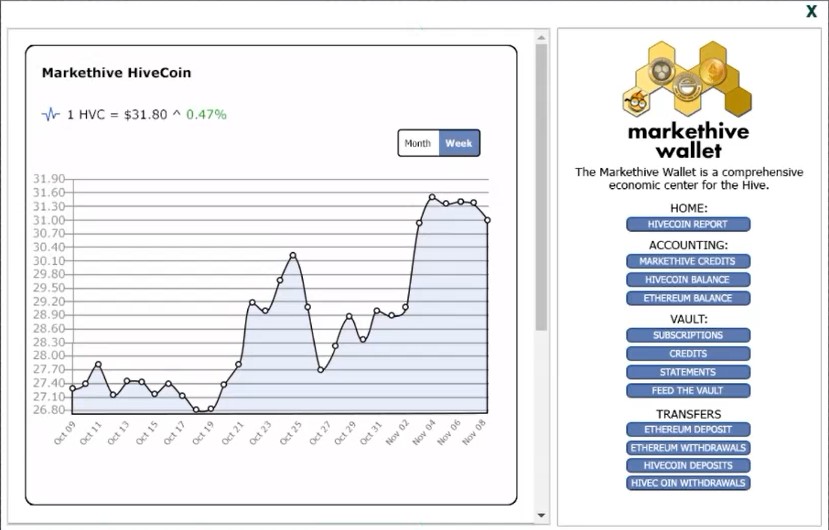 What Are Markethive Credits?
A Markethive Credit is similar to a stable coin and is what generates all of the activity. One Markethive Credit = $1usd. These credits can be purchased through the Vault section of the wallet via Bitcoin, Ethereum, credit/debit card, or Paypal.
You can pay for anything through the Vault such as the Banner Advertising Impressions, the Boost, Press Releases, and Sponsored Articles, gaming activities, and more as these services are implemented and introduced into the Markethive system.
Your Vault credit can be used to buy ILPs and future upgrades that will unlock extra services and incentives. These will follow once the wallet is launched.
Better Than A Bank Account
Utilizing the Vault by having an ongoing threshold balance of Markethive Credits can be very lucrative. In other words, keeping a certain amount in the Vault above your monthly commitments (subscriptions) that are debited will award you compound interest paid in HVC of up to 5% and deposited directly into your CoinClip or Wallet.
How Is the Interest Calculated?
Markethive releases coins into the market, in contrast to mining, via Airdrops, Bounties, Faucets, or Micropayments. Keeping a designated threshold of Markethive credits in the Vault is a form of staking. Staking generates interest, meaning you are paid additional HVC based on how many coins you hold and your other activities in Markethive.
Your Hive Rank score adds to your daily interest and can be a significant multiplier. Your CoinClip Score is determined by the spread of earned and current balance of HVC. Essentially, if you send coins out of the system, you lower your score for staking. If you bring coins into the system, you increase your score.
ILPs count as coins, so buying ILPs can significantly increase your staking rewards. Upgrading your membership adds to your staking interest, and logging in every day is rewarded with an additional interest increase.
Transferring any chosen amount of HiveCoin, HVC, from your wallet into the Vault for a set time period (e.g., 30 days) will earn interest also. Essentially, you are staking those delegated coins, and the higher the balance of staked coins, the more interest earned. You can choose to keep it in the vault and accumulate or transfer it to your wallet for transactional purposes.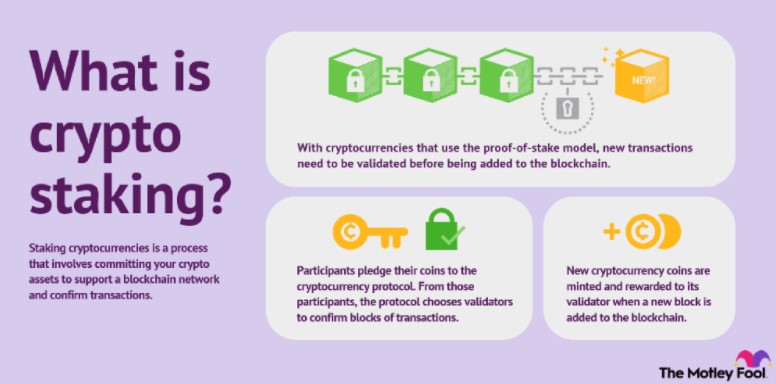 Image source: Fool.com What Is Crypto Staking
What Is Staking In The World Of Crypto?
Staking is a way to put your crypto to work and earn rewards on it. In general crypto terms is how many of the cryptocurrency blockchain projects verify their transactions, allowing participants to earn rewards on their holdings. 
Staking simply stands for holding a delegated amount of cryptocurrency in your wallet for a fixed period and is integral to the Proof of Stake protocol and a way of supporting the blockchain of a cryptocurrency in which you've invested.
Staking, is available with cryptocurrencies that use the proof-of-stake model to process payments. This is a more energy-efficient alternative to the proof-of-work model, which requires mining devices that use computing power to solve mathematical equations.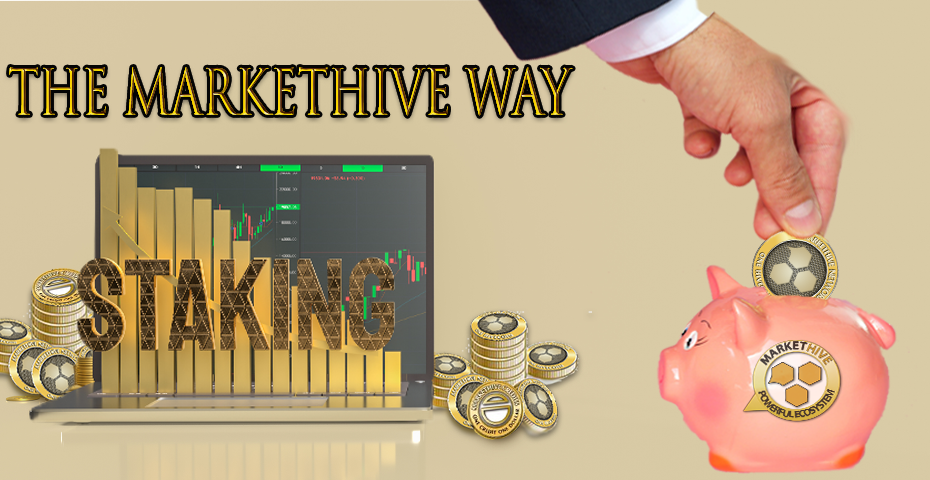 Staking – The Markethive Way
In the case of the Markethive, the Vault section of your wallet is where you can stake the coins you hold and is an easy and passive way to earn income.
The rewards and interest that one gains from staking vary depending on the length of the time, the amount of HVC staked, and Hive Ranking. 
Because Markethive includes the Markethive Credit threshold balance in its staking protocol, it would be advantageous for you to keep it above the threshold along with an increasing Hive Rank enabling you to earn the maximum amount of interest.
The Vault will notify you if you go below the threshold. 
By buying or earning HiveCoin and banking it in the Vault, you are essentially burning the coin, and it is a good thing, as explained in this article on how Markethive creates coin velocity. There are many ways to burn crypto coins which is advantageous to the wealth and health of the currency.
In this instance, to burn the HiveCoin means pulling the coin out of the marketplace and staking or holding it in the Vault, so there's less supply. The less supply, the greater the demand, which in turn increases the price of the coin.
So there are three types of currency in Markethive. The HiveCoin, (HVC), the ILP Tokens, and the Markethive Credits. And remember that the Markethive Credits are always equivalent to $1usd of which you buy products and services. Keep in mind the more you use the vault, the higher the interest rate. The more you use the system, the higher the interest rate.
The four facets scored for stake interest are Hive Rank, Coin Clip score, Loyalty Level, and Attendance Bonus as illustrated in the schematic below. Also, total interest is paid on both your vault balance and coin clip, or wallet balance, and the interest on this combined total is paid at the end of each month.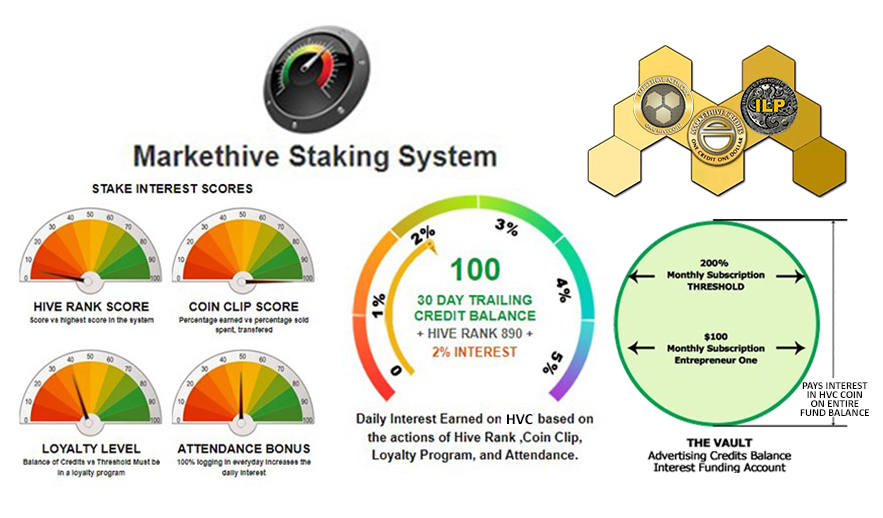 CEO of Markethive, Thomas Prendergast, reported in a recent email to all in the Markethive community,
"The wallet is in its final draft and design. How long this can take is still to be determined, but we already have a working wallet. When the interface is completed, then we will announce the wallet to be released. I don't easily get excited, but this has me rather anxious as this is a major milestone of the many milestones we have reached."
Meanwhile, Two New Systems Implemented
Two other vital upgrades were accomplished this week:
New registration and login system.
Markethive support ticket portal.

Markethive's registration and login system is now owned and operated by Markethive. This is important as we now do not have to rely or depend upon 3rd parties such as Oneall Login API Services.
You choose which email networks you would like to log in with, and the ability to log in with your domain email will be integrated. When logging in with the new system for the first time, enter your email or username. The system will recognize you have an account and send an email with a link to log in initially.
Once logged in, go to Login Networks in your settings and add the other networks displayed. There will be more added as we move forward.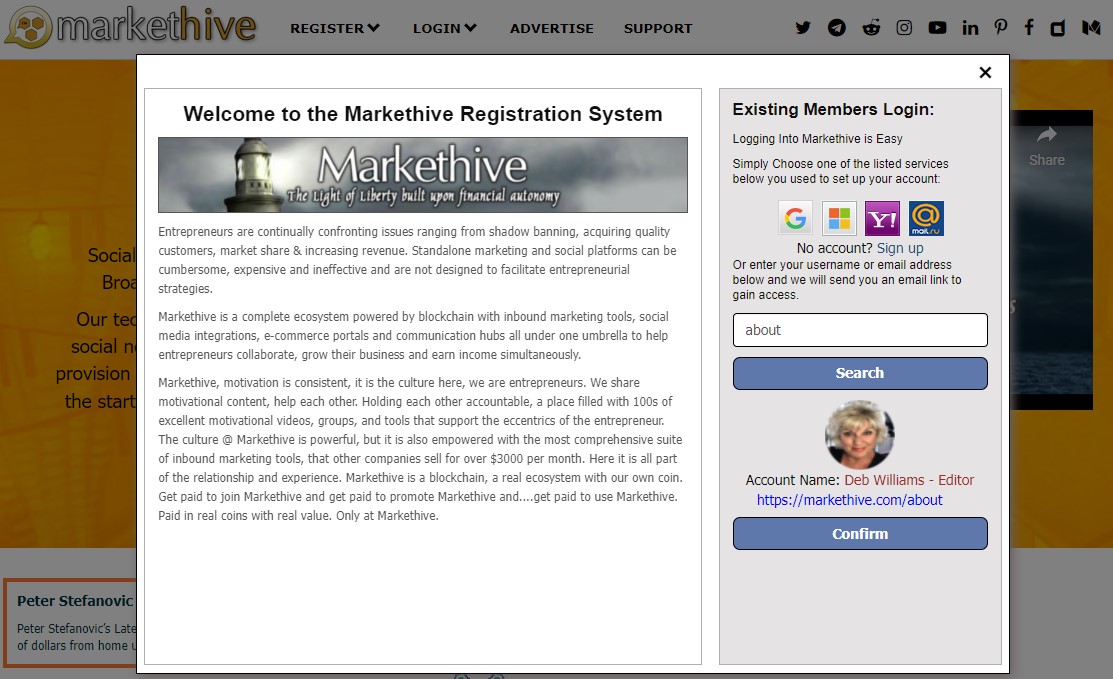 The social networks you have linked to your Markethive account are now for remote broadcasting only with the added advantage of the bounty program that is in the works. This means you will be rewarded for registering all your separate accounts through the Markethive platform and by subscribing and following the many Markethive social media accounts will qualify you for the Infinity Bounty Program.
Markethive Ticket Support is now active. This system enhances personalization, keeps records and information on all tickets you generate. You can upload documents and prioritize your queries, streamlining the support process.
Ticket support can be found at the far right on the blue bar on the Home page. Fine-tuning to this system is still required, so your feedback when using the ticket support will be much appreciated.
Now, our Telegram Support Channel can become a support for the Markethive community. It will be a place where people can ask questions or seek assistance from other Markethive associates about anything they may need help with—Eg., uploading a video, etc.
These two new implementations make Markethive a more independent force, galvanizing its armor protecting its community from the oligarchs' control and oppressive antics where many have fallen victim. Markethive – A sanctuary from the world chaos and storm that is brewing with intensity.
Come to our Sunday meetings at 10 am MST as we approach massive major upgrades and be the first to know about it. See and hear explanations, ask questions, and witness the ever-evolving technology and concepts of Markethive as we stay one step ahead of tyrannical technocrats. The link to the meeting room is located in the Markethive Calendar. See ya there.